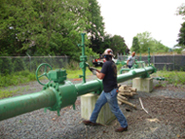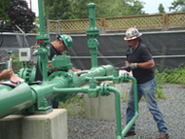 Sealweld Professional Valve Technicians specialize in maintaining and sealing lubricated valves and actuators. In the past few years our service department personnel have helped save clients over 1 billion dollars by preventing costly shutdowns and unplanned outages.
Our services department maintains Master Service Agreements with many of the world's largest oil & gas producers, pipeline operators and distributors. We are registered on ISNetworld, Canqual and other contractor management providers.
Sealweld does not sell valves or maintain a valve repair facility. Our focus in to simply help keep your valves in-line for as long as possible and to avoid costly shutdowns.
Our specialty is helping you realise the full potential life span for all of your critical service valves.
In factory pre-delivery inspection
New valve commissioning during construction and commissioning
Valve seal verification prior to hand over
Annual valve maintenance contracts
Actuator installation, maintenance and minor repairs
Sealing valve stem leaks, seat leaks, body leaks, flange leaks, fitting leaks
Maintaining an emergency seal for the duration of the critical outage
Transferring our technology to your operations and field personnel
In-line ultrasonic leakage measurement